Best of Rwanda & Tanzania (14 days)
Our 14 days trip brings you the best of Rwanda and Tanzania; where the savannah meet the rainforest. Expect to see the big 5 and the other big game on the savannahs and up to 14 primate species, including gorillas and chimpanzees!!!
This trip specifically includes the most important and well known national parks of Rwanda and Tanzania: Nyungwe Forest, Volcanoes National Park, the Ngorongoro Crater, Serengeti National Park and Lake Manyara National Park.
We start in Nyungwe Forest in Rwanda. This beautiful jungle is the largest rainforest in East Africa and is home to 12 primate species, including chimpanzees. Second stop we make is Volcanoes National Park, where Dian Fossey studied the Mountain Gorillas. You will never forget a meeting with the mountain gorillas in Volcanoes National Park. We end our trip in Rwanda in Kigali, from where we fly to Tanzania.
The first national park we visit in Tanzania is Lake Manyara, one of Tanzania's most dramatically located wildlife areas, consisting of a shallow but huge soda lake, located at the foot of the Great Rift Valley's western escarpment. This park is famous for its tree-climbing lions. After that, we go to the Ngorongoro Crater, featuring one of the highest concentrations of game and arguably the densest population of predators and carnivores in Africa.
This safari will also take you to the Serengeti, a massive wilderness of 14500 square km, where every day brings a new landscape.
Highlights
Highlights
See the Chimpanzees and 11 other monkey species in Nyungwe Forest in Rwanda
Meet the Mountain Gorillas in the Volcanoes National Park in Rwanda
Best game viewing in the world on the endless savannah plains of the Serengeti
One of the eight Wonders of the World, the Ngorongoro Crater with outstanding wildlife
The tree climbing lions in Lake Manyara National Park
Good chances of seeing the big five: Elephant, Rhino, Lion, Leopard and Buffalo
Meet the local people like the Maasai and pygmies and see their local way of living
Photos
Video
Route
Route
Day 1
Kigali Airport - Kigali
Day 2
Kigali - Nyungwe Forest
Day 5
Nyungwe Forest - Kibuye
Day 6
Kibuye - Volcanoes National Park
Day 7
Volcanoes National Park - Kigali
Day 8
Kigali - Flight - Arusha (Tanzania)
Day 9
Arusha - Lake Manyara National Park
Day 10
Lake Manyara National Park - Serengeti
Day 12
Serengeti - Ngorongoro Crater
Day 14
Ngorongoro Crater - Kilimanjaro Airport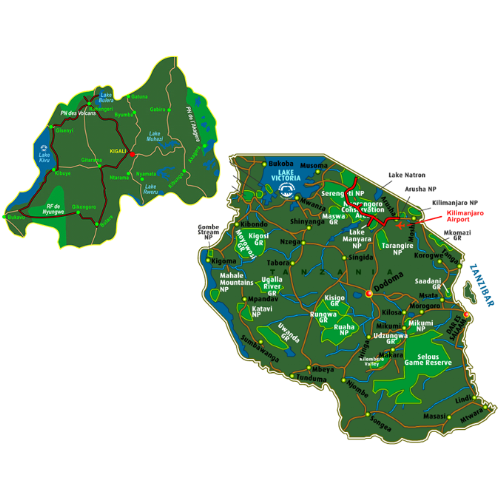 Day to day
Day to day program
Accommodations
Accommodations
Day 1
Kigali Airport - Kigali
:
Flame Tree Village (BB)
Day 2
Kigali - Nyungwe Forest
Day 5
Nyungwe Forest - Kibuye
:
Moriah Hill Resort (FB)
Day 6
Kibuye - Volcanoes National Park
Day 7
Volcanoes National Park - Kigali
:
Flame Tree Village (FB)
Day 8
Kigali - Flight - Arusha (Tanzania)
Day 9
Arusha - Lake Manyara National Park
:
Migunga Tented Camp (FB)
Day 10
Lake Manyara National Park - Serengeti
Day 12
Serengeti - Ngorongoro Crater
:
Ngorongoro Wildlife Lodge (FB)
Day 14
Ngorongoro Crater - Kilimanjaro Airport
:
Flight (End of service)
Legend: BB = Bed and Breakfast / HB = Half Board / FB = Full Board
Prices
Includes
Airport transfers
Accommodations with meals mentioned
Bottled drinking water
Private 4x4 custom built safari van with knowledgeable driver/guide and fuel
Entrance fees to the included National Parks
Activities mentioned as included
Excludes
Flights
Visa
All optional activities
Insurances
Meals not mentioned and beverages
Tips and personal expenses such as laundry and communication
Travel info