Tanzania
Tanzania is called 'Land of Superlatives' because Tanzania has it all: The tallest mountain in Africa (Kilimanjaro), the greatest game parks in the world (Serengeti and the Ngorongoro Crater) and tropical beaches (Zanzibar). Wildlife includes: Elephant, Lion, Buffalo, Leopard, Rhino (Big 5), Cheetah, Giraffe, Zebra, Hyena, African Wild Dog, Hippo, Crocodile and Chimpanzee.
Tanzania has 2 circuits for tourists: Northern Circuit and Southern Circuit. The Northern Circuit is the most famous, but the Southern Circuit is also interesting and getting more and more popular.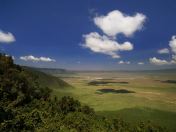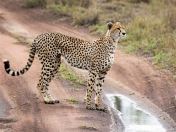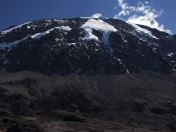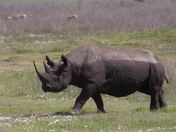 See our Tours below. It is possible to book one of our Standard Tours or to join one of our Group Tours (with guaranteed departures). You can make your own selection of destinations and highlights in our tours using the check boxes on the left. Accommodations can be Lodges/Hotels/Tented Camps or Camping with your own tent.
You can also Design your own Tour or go to the Group Tours

Tours
Highlights
Highlights Tanzania
Tanzania Northern Circuit: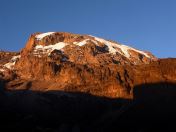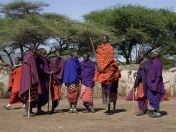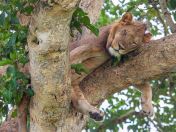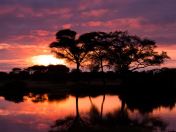 Visit a Maasai village to see the local way of life. It is even possible to spend a night near or in their village.

Visit the Hadzabe, the last Bushmen in Tanzania. The Bushman are hunter gatherers and live the way our very early ancestors were living. Visit their local village and go hunting with them. A unique experience!

Meet the local people with their Historical Sites/Villages The rich cultural heritage complemented by the warm hospitality of the charming people makes for a most memorable experience,

Olduvai Gorge , the place where mankind begun life, fantastic for archeological discoveries.

See the Tree Climbing lions in Lake Manyara National Park.

Visit Mkomazi National Park, a stretch of Tsavo National Park of Kenya.

Great birding, with over 1000 bird species.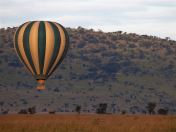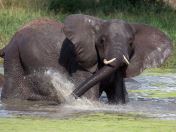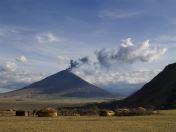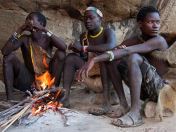 Tanzania Southern Circuit: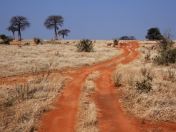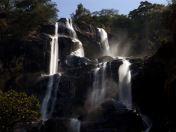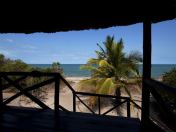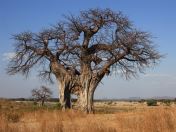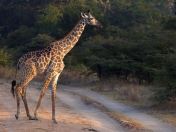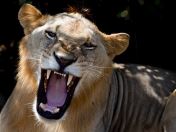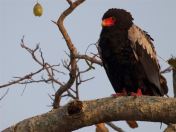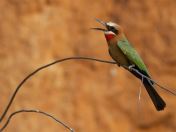 About
About Tanzania
The land of superlatives!
Tanzania has it all: The tallest mountain in Africa, Mt Kilimanjaro, a hiker's delight. The greatest game park in the world, Serengeti National Park, home of the most storied annual wildlife migration anywhere. The biggest volcano caldera in Africa, the Ngorongoro Crater, with unsurpassed wildlife. The largest wildlife area in the world, Selous Game Reserve. Africa's most exotic and compelling island, the legendary Zanzibar.
| | |
| --- | --- |
| Capital | Dodoma |
| Largest city | Dar es Salaam |
| Official languages | Swahili (de facto) |
| Area Total | 945,087 km² |
| Water (%) | 6.2 |
| Population | 37,849,1331 |
| Currency | Tanzanian shilling (TZS) |
| Time zone | EAT (UTC+3) |
| Internet TLD | .tz |
| Calling code | 255 |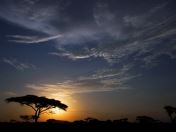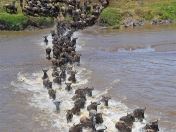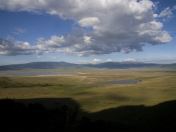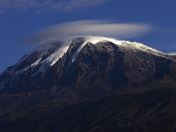 Tanzania, officially the United Republic of Tanzania (Swahili: Jamhuri ya Muungano wa Tanzania), is a country in East Africa bordered by Kenya and Uganda on the north, Rwanda, Burundi and the Democratic Republic of the Congo on the west, and Zambia, Malawi and Mozambique on the south. To the east it borders the Indian Ocean.
The country's name is a portmanteau of Tanganyika, the large mainland territory, and Zanzibar, the offshore archipelago.
The two former British colonies united in 1964, forming the United Republic of Tanganyika and Zanzibar, which later the same year was renamed the United Republic of Tanzania.
In 1996 government offices were transferred from Dar es Salaam to Dodoma, making Dodoma the country's political capital. Dar es Salaam remains the principal commercial city.
Tanzania is a safari destination without peer. The statistics speak for themselves: An unparalleled one- quarter of its land dedicated to conservation areas, the game lover's dream. With the world- renowned Serengeti National Park and Incomprehensively vast Selous Game Reserve heading a rich estimation of 20 percent of Africa's largest mammal population.
There is more to Tanzania than just Safaris; Mount Kilimanjaro and Mount Meru, respectively the highest and fifth- highest Peaks on the continent. Lake Victoria, Tanganyika and Nyasa are the three largest freshwater bodies in Africa. Then of course there is the Magical 'Spice Island' of Zanzibar, the highlights of a vast Indian Ocean coastline studded with fringed-perfect beaches and beautiful marine life.
Tanzania's daunting natural variety is mirrored by a cultural diversity embracing 120 distinct tribes: from the iconic Maasai pastoralists of the Rift Valley, to the Arab -influenced Swahili of the coast, to the Hadzabe hunter-gatherers in Lake Eyasi.
Tanzania, for all its ethic diversity, is practically unique in Africa in having navigated a succession of modern political hurdles, the transformation from colonial dependency to independent nation, from socialist state to free market economy. From mono-party's to fully-fledged democracy- without ever experiencing sustained or ethic violence.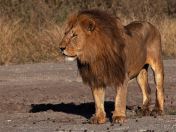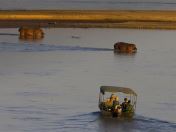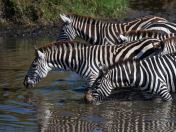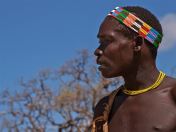 Climate
The Tanzania climate is generally tropical but temperate in highlands. The Central plateau which lies 900-1,500 meters above the Sea level is dry and arid with hot days and cool nights; this gives Tanzania a nice tropical climate with temperatures averages between 21 - 27 degrees Celsius during the day and between 12 and 18 degrees Celsius at night.
June and September is the cool season.
The "long rains" are from March to May and the "the short rains" from October to December.
The hottest moths are between October and February. Along the Coastal regions with its neighboring Islands of Zanzibar, it rains in November and December and from March to May.
In Dar es Salaam city with the Costal regions and Islands can be hot and humid although Sea breezes cool the area pleasantly between June and September.
Although Tanzania has no winter as such and summer clothing will normally suffice, some light woolen clothing should be taken for the higher altitudes!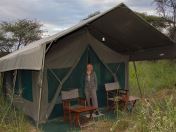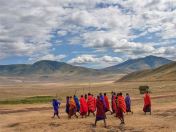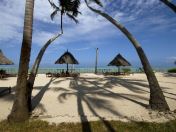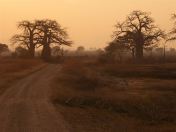 Photos
Video Tanzania
Wildlife and Birds
Wildlife and Birds Tanzania
East Africa is the best place in the world to watch wildlife. Large animals are more abundant, diverse and visible than anywhere else in the world. East Africa is also one of the best places in the world for birdwatching. It's not unusual for birdwatchers to see 500 or more species in one trip.
Wildlife
There are more then 100 mammal species in East Africa: Elephants, Rhinos, Giraffes, Buffaloes, Lions, Leopards, Cheetahs, Hyenas, Monkeys, Zebras, Warthogs, Bushpigs, Giant Forest Hogs, Hippos and more then 40 antelope species, such as Kudus, Topis, Waterbucks, Hartebeests, Uganda Kobs, Oribis, Bushbucks, Elands, Impalas, Roan Antelopes, and Gazelles. Other species include Nile Crocodiles, Nile Monitors, other lizards and snakes, Mountain Gorillas, Chimpanzees and 15 monkey species.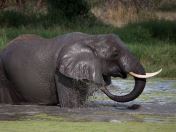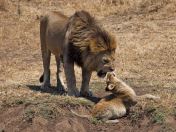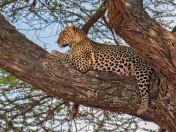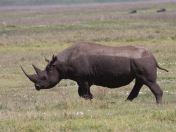 ​
Birds
There are over a thousand bird species, which makes East Africa a birder's paradise. Species include: Shoebill Stork, Saddle Billed Stork, Pelicans, Herons, African Fish Eagle, Bateleur, Long Crested Eagle, Vultures, Owls, Grey Crowned Crane, Great Blue Turaco, Rwenzori Turaco, Hornbills, Honey birds, Sunbirds, Weavers and the African Finfoot.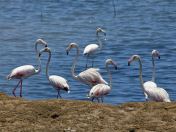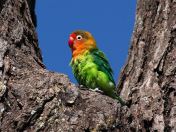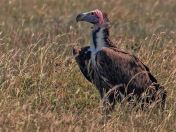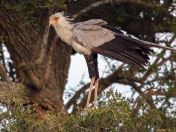 Watching Wildlife
All these species are visible in Uganda, Rwanda and Tanzania. And in the western part of Uganda and in Rwanda, there's an unique combination of the savanna animals from East Africa and the forest animals of West Africa. Species such as Mountain Gorillas, Chimpanzees, Black-and-White Colobus, Red Colobus, L'Hoest's Monkeys, Brazza's Monkeys, Patas Monkeys, Red-Tailed Monkeys, Blue Monkeys, Forest Elephants and Forest Buffaloes.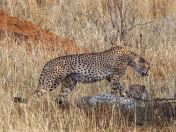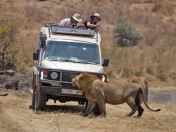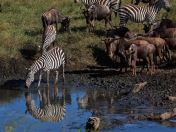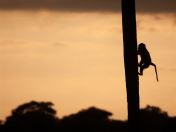 Local people
Local people Tanzania
Meet the local people and spend an afternoon with them, have a meal together, visit a school or a typical African Church Ceremony, or visit one of the projects. Kazinga Tours supports the local people and encourages clients to visit one of their programs and give them support.
Kazinga Tours works together with some local Community Based Tourism Organizations. This unique combination gives our customers the opportunity to meet the local people and visit local tribes like the Maasai and the Hadzabe.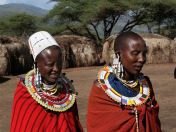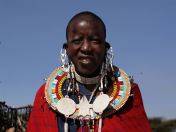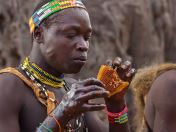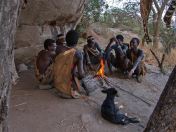 Apart from watching wildlife, Kazinga Tours is famed of promoting Cultural Tourism in Tanzania. Kazinga Tours gives personalized services in cultural tours. Our Horizons of Mount Kilimanjaro Slope in the Villages of Marangu and Mamba, these villages have both natural and cultural heritage to offer the visitor. There are more than seven waterfalls in the vicinity with unique floras-flowers and fruit nurseries.
Tour the slopes of Mt. Kilimanjaro and ascend the beautiful viewpoints tours through these villages afford superlatives views of Mt Kilimanjaro. Pay a visit to the home of and memorial of the Late Johanna Lauwo a Chagga native who accompanied Dr. Hans Meyer (German popular guy), on the first recorded climb of Mt. Kilimanjaro in 1889, reading the original Log Book of Johanna.
One can customize a half day, full day or two day walking safaris. These tours include Kinukamori and Moonjo falls and visit the Chagga House made of a straw roofing. See the Coffee tree planted in Tanzania.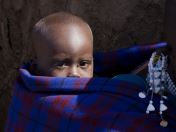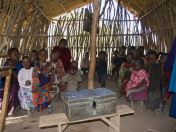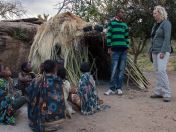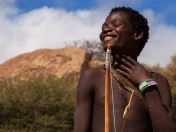 Next to this is Mamba Village, is a paradise for bird watchers and nature lovers, enjoy scenic waterfalls and fruit nurseries, past the historical sites including the Laka Holes-large hiding caves used during the Chagga- Maasai wars, visit a wood carving school, meet a local blacksmith, using ethic methods to prepare spears and tools, and a Chagga culture by visiting traditional Chagga houses
Take adventures around the revered Oldonyo Lengai base in Rift Valley taking a break in a cool shade of giant Baobab Tree experience with the Maasai with their culture steeped deeply in traditional ways struggle to adopt to a changing Digital World!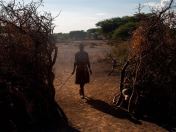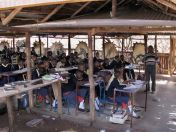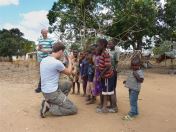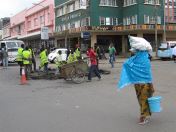 Travel info