Best of Rwanda (14 days)
Our 14-day trip brings you the best of Rwanda: where the savannah meets the rainforest.
Expect to see the animals of the savannahs (elephant, buffalo, giraffe, hippo, leopard) and up to 15 primate species, including gorillas and chimps!!!
This trip specifically includes the most important and well known national parks of Rwanda: Akagera National Park, Nyungwe Forest National Park, Volcanoes National Park and Lake Kivu.
Highlights
Highlights
Meet the gorillas in the Volcanoes National Park
Visit Dian Fossey's Grave
See chimpanzees and 12 other monkey species in Nyungwe Forest
Game drives (safaris) in Akagera National Park
Boat trips on Lake Akagera
Visit the Genocide Memorial in Kigali and the National Museum in Butare (Huye)
Meet the local people and/or the pygmies and see their local way of living
Photos
Video
Route
Route
Day 1
Kigali Airport - Kigali
Day 2
Kigali - Akagera National Park
Day 3
Akagera National Park
Day 4
Akagera National Park - Kigali
Day 5
Kigali - Butare - Nyungwe Forest National Park
Day 6
Nyungwe Forest National Park
Day 7
Nyungwe Forest National Park
Day 8
Nyungwe Forest National Park - Gisenyi (Lake Kivu)
Day 9
Gisenyi (Lake Kivu)
Day 10
Gisenyi - Volcanoes National Park
Day 11
Volcanoes National Park
Day 12
Volcanoes National Park
Day 13
Volcanoes National Park - Kigali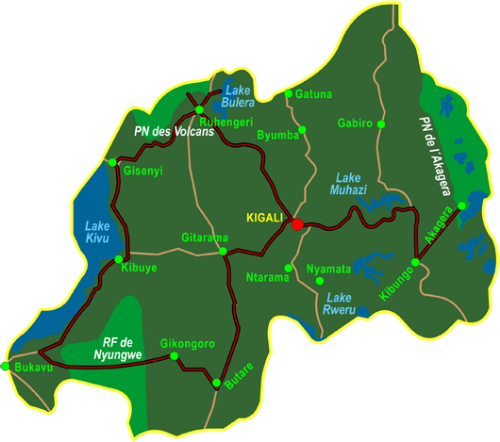 Day to day
Day to day program
Accommodations
Accommodations
Medium Budget
High Budget
Day 1
Kigali Airport - Kigali
Day 2
Kigali - Akagera National Park
Day 3
Akagera National Park
Day 4
Akagera National Park - Kigali
Day 5
Kigali - Butare - Nyungwe Forest National Park
High Budget:
One&Only Nywungwe House (AI)
Day 6
Nyungwe Forest National Park
High Budget:
One&Only Nywungwe House (AI)
Day 7
Nyungwe Forest National Park
High Budget:
One&Only Nywungwe House (AI)
Day 8
Nyungwe Forest National Park - Gisenyi (Lake Kivu)
Medium Budget:
Paradis Malahide (FB)
Day 9
Gisenyi (Lake Kivu)
Medium Budget:
Paradis Malahide (FB)
Day 10
Gisenyi - Volcanoes National Park
Day 11
Volcanoes National Park
Day 12
Volcanoes National Park
Day 13
Volcanoes National Park - Kigali
Medium Budget:
Flight (End of service)
High Budget:
Flight (End of service)
Legend: BB = Bed and Breakfast / HB = Half Board / FB = Full Board / AI = All Inclusive
Prices
Includes
Airport transfers
Accommodations with meals mentioned
Bottled drinking water
Private 4x4 custom built safari van with knowledgeable driver/guide and fuel
Entrance fees to the included National Parks
Activities mentioned as included
Excludes
Flights
Visa
All optional activities
Insurances
Meals not mentioned and beverages
Tips and personal expenses such as laundry and communication
Groups
Group Tours - Guaranteed Departures
Medium budget, with a minimum of 2 persons
2024
27-01-2024 – 09-02-2024
Travel info