Rwanda
Rwanda is called 'Land of a Thousand Hills'. The number of tourists visiting Rwanda is growing year by year because Rwanda has much to offer! A Combination of Bamboo Forests, Tropical Jungles, Volcanoes and Savannahs. Rwanda is home to the famous Mountain Gorillas, Chimps, 11 other monkey species and also Lions, Elephants and Giraffes.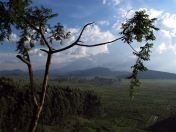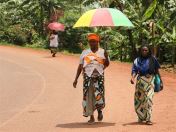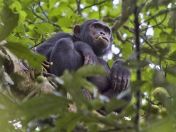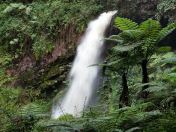 See our Tours below. It is possible to book one of our Standard Tours or to join one of our Group Tours (with guaranteed departures). You can make your own selection of destinations and highlights in our tours using the check boxes on the left. Accommodations can be Lodges/Hotels/Tented Camps or Camping with your own tent.
You can also Design your own Tour or go to the Group Tours

Tours
Highlights
Highlights Rwanda
Wildlife and Nature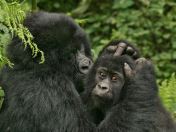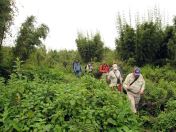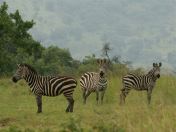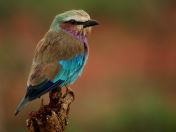 Things to See and to Do
Climbing the Virunga Volcanoes in the Volcanoes National Park.

Hiking / Trekking through the jungle of Nyungwe Forest, with it's beautiful waterfalls and fantastic scenery.

Visit Diane Fossey's grave (Diane Fossey's Tomb) next to the gorilla graveyard, Karisoke Research Centre.

Visit Kigali, Rwanda's attractive capitol, with the Genocide Memorial, museums and craftcenters.

Visit the National Museum in Butare (Huye).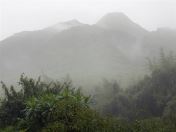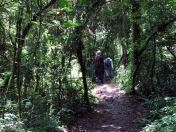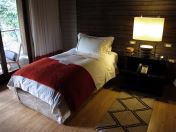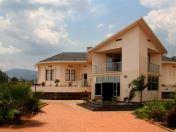 Meet the Local People
Visit local tribes, enjoy a typical African church ceremony or spend an afternoon with a local family.

Visit the pygmies and experience their unique culture.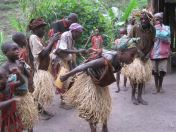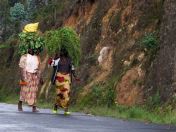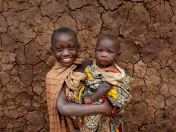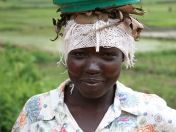 About
About Rwanda
Rwanda is often called 'Land of a Thousand Hills'. Rwanda is a small, land-locked country on the eastern rim of the Albertine Rift Valley, part of the Great Rift Valley. Rwanda is experiencing a tourism rebound after falling of the map after the genocide in 1994. The country now has many international visitors and is regarded as a safe place for tourists. Getting around is very easy, because the distances are relatively small and the paved roads are generally in good condition. Rwanda is bordered by Uganda, Burundi, the Democratic Republic of Congo and Tanzania.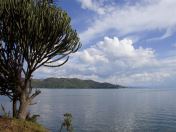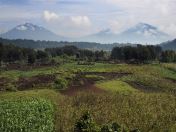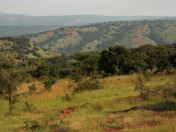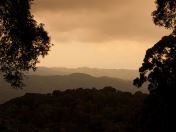 Come and see for yourself, Rwanda has a lot to offer: Five volcanoes in a row and the biggest concentration of mountain gorillas in the Volcanoes National Park, vast tropical rainforest in Nyungwe Forest, with Chimpanzees, large troops of Angolan Colobus Monkeys, Mona Monkeys, Red-tailed Monkeys, Patas Monkeys and Blue Monkeys.
Great Savannas in Akagera National park with the large animals like Elephants, Lions, Buffaloes, Leopards, Giraffes, Zebras, Hyenas, Warthogs, Hippos and Crocodiles and a stunning scenery at Gisenyi on lake Kivu. Kigali is the vibrant capital, which is slowly regaining its former reputation of its great nightlife. Kigali's international airport serves domestic and several international destinations. Kigali is also home to the National Genocide Memorial.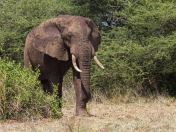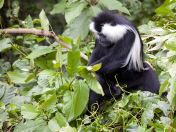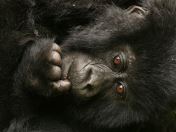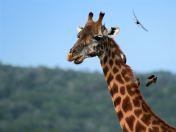 Western and central Rwanda has steep mountains and lies at elevations between 1500 and 2500 meters above sea level. The Virunga Volcanoes give a lot of hiking opportunities through beautiful scenery. The steep mountains only give way in the eastern part of the country, nearby the Tanzanian border. The lower lying terrain is part of the Lake Victoria Basin, with the Kagera River. Much of this ecosystem is protected within the Akagera National Park.
Rwanda is a tropical country and much of it lies on the African plateau. This gives Rwanda a nice tropical climate, with temperatures averaging between 23 and 28 degrees Celsius during the day and between 11 and 17 degrees Celsius at night. The rainy seasons are from March to May and October to December.
The official languages of Rwanda are French and Kinyarwandais, but English is also widely spoken. And nowadays English is getting more and more popular. The currency is the Rwandan Franc (RFr). The land is 26.338 sq. kilometers, with a population of 8 million.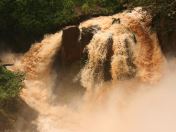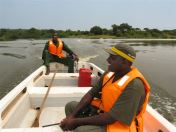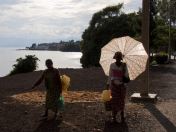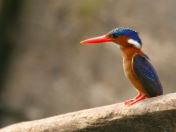 Photos
Video
Video Rwanda
Touched by a Wild Mountain Gorilla
Wildlife and Birds
Wildlife and Birds Rwanda
East Africa is the best place in the world to watch wildlife. Large animals are more abundant, diverse and visible than anywhere else in the world. East Africa is also one of the best places in the world for birdwatching. It's not unusual for birdwatchers to see 500 or more species in one trip.
Wildlife
There are more then 100 mammal species in East Africa: Elephants, Rhinos, Giraffes, Buffaloes, Lions, Leopards, Cheetahs, Hyenas, Monkeys, Zebras, Warthogs, Bushpigs, Giant Forest Hogs, Hippos and more then 40 antelope species, such as Kudus, Topis, Waterbucks, Hartebeests, Uganda Kobs, Oribis, Bushbucks, Elands, Impalas, Roan Antelopes, and Gazelles. Other species include Nile Crocodiles, Nile Monitors, other lizards and snakes, Mountain Gorillas, Chimpanzees and 15 monkey species.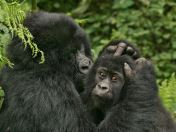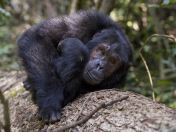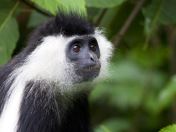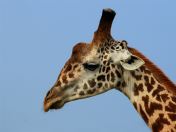 Birds
There are over a thousand bird species, which makes East Africa a birder's paradise. Species include: Shoebill Stork, Saddle Billed Stork, Pelicans, Herons, African Fish Eagle, Bateleur, Long Crested Eagle, Vultures, Owls, Grey Crowned Crane, Great Blue Turaco, Rwenzori Turaco, Hornbills, Honey birds, Sunbirds, Weavers and the African Finfoot.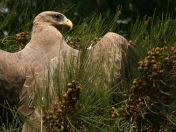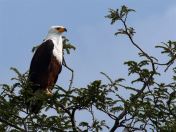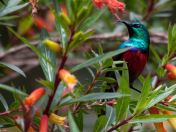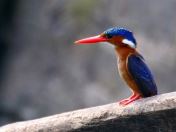 Watching Wildlife
All these species are visible in Uganda, Rwanda and Tanzania. And in the western part of Uganda and in Rwanda, there's an unique combination of the savanna animals from East Africa and the forest animals of West Africa. Species such as Mountain Gorillas, Chimpanzees, Black-and-White Colobus, Red Colobus, L'Hoest's Monkeys, Brazza's Monkeys, Patas Monkeys, Red-Tailed Monkeys, Blue Monkeys, Forest Elephants and Forest Buffaloes.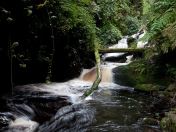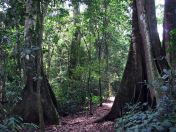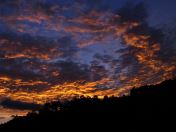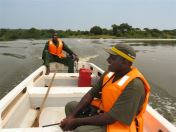 Local people
Local people Rwanda
Rwanda is very colorful and has many different tribes of local people. The best known are the Hutu's, Tutsi's and Pygmies.
Meet the local people and spend an afternoon with them, have a meal together, visit a school or a typical African Church Ceremony, or visit one of the projects. Kazinga Tours supports the local people and encourages clients to visit one of their programs and give them support.
During a trip with Kazinga Tours, there are many opportunities to visit the local people. Our driver can take you there or just make a stop on the way to visit a market, a church or a school.
Rwanda made a remarkable come back after the 1994 genocide. The country is built up in a good and modern way and the dividing between Hutu's and Tutsi's is no longer there. For people willing to see that part of the Rwandan history there are memorial centers in the bigger towns. The best know is in Kigali.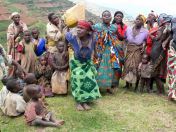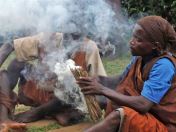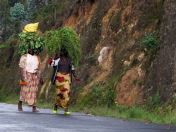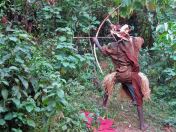 Travel info