Kilimanjaro Rongai Route (6 days)
The Rongai Route is one of the easiest ascents to the peak.
It has a well-defined path, which has been well set out and where most obstacles have been modified to make it friendly.
This is the best route to see wildlife like elephants buffaloes, other big game and monkeys.
For this route, you don't need any mountain climbing skills, but you must be fit.
The trek starts East of Marangu Gate, near the Kenyan border Nalemoru Gate.
This route is the only route starting the climb from the north side of the mountain, which gives a different perspective. Porters will carry all your personal items, equipment and supplies and a cook prepares your meals.
For the 7-day route, add an additional acclimatisation day Kikelelwa Camp on the itinerary below (an extra day between day 3 and day 4). On the extra day you can make a scenic walk.
The extra day helps to get used to the high altitude.
Highlights
Photos
Video
Route
Route
Day 1
Kilimanjaro Airport - Moshi Town
Day 2
Moshi Town – Rongai Gate (Nalemoru Gate) – Sekimba Camp
Day 3
Sekimba Camp – Kikelelwa Camp
Day 4
Kikelelwa Camp – Mawenzi Tarn Camp
Day 5
Mawenzi Tarn Camp – Kibo Hut
Day 6
Kibo Hut – Uhuru Peak – Horombo Hut
Day 7
Horombo Hut – Marangu Gate – Moshi Town
Day 8
Moshi Town - Kilimanjaro Airport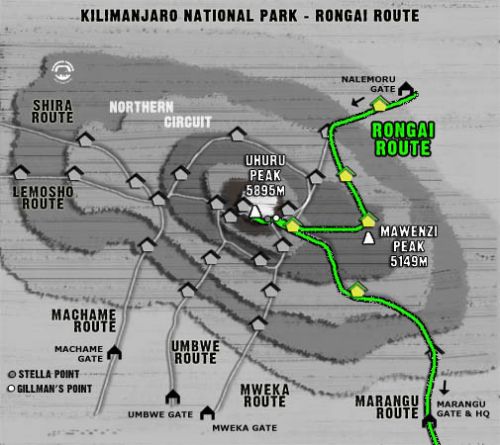 Day to day
Day to day program
Accommodations
Accommodations
Day 1
Kilimanjaro Airport - Moshi Town
:
Keys Hotel (BB) or Kilimanjaro Panama Hotel (BB) or Kilimanjaro Park View Inn (BB)
Day 2
Moshi Town – Rongai Gate (Nalemoru Gate) – Sekimba Camp
:
Sekimba Camp (First Cave Camp) (2.700m / 8,800ft)
Day 3
Sekimba Camp – Kikelelwa Camp
:
Kikelelwa Camp (3.650m / 12,000ft)
Day 4
Kikelelwa Camp – Mawenzi Tarn Camp
:
Mawenzi Tarn Camp (4.300m / 14,100ft)
Day 5
Mawenzi Tarn Camp – Kibo Hut
:
Kibo Hut (4.700m / 15,400ft)
Day 6
Kibo Hut – Uhuru Peak – Horombo Hut
:
Horombo Hut (3.700m / 12,100ft)
Day 7
Horombo Hut – Marangu Gate – Moshi Town
:
Keys Hotel (BB) or Kilimanjaro Panama Hotel (BB) or Kilimanjaro Park View Inn (BB)
Day 8
Moshi Town - Kilimanjaro Airport
:
Flight (End of Service)
Legend: BB = Bed and Breakfast
Prices
Includes
Airport and destination transfers
Meals mentioned in your hotel
All meals (breakfast, lunch and dinner) and drinks during the tracking
Accommodations (hotel and tents with sleeping mattress)
Knowledgeable guide, assistant guide, porters, cook
Rescue and entrance fees to the Kilimanjaro National Park
Excludes
Flights
Visa for Tanzania
Insurance
Beverages
Personal things like sleeping bag, rucksack, footwear, other clothing etc.
Tips and personal expenses such as laundry and communication
Travel info