Kenya
Kenya is known as one of the best places in the world to see the big 5 and other wildlife. Kenya is famous for the 'big migration' in the Maasai Mara, whereby millions of zebras and wildebeests migrate between the Maasai Mara in Kenya and the Serengeti in Tanzania.
Other highlights are Amboseli National Park, with its large herds of elephants and the beautiful views of the snow-capped Kilimanjaro, Mount Kenya with its spectacular views and the beautiful lakes like Lake Nakuru and Lake Naivasha in the Rift Valley.
Apart from scenery and wildlife, Kenya has interesting local tribes like the Maasai and it is one of the best places to relax on the tropical beaches along the Indian Ocean.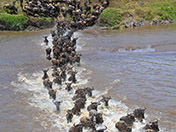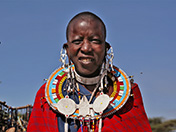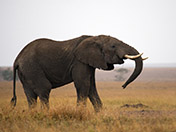 See our Tours below. It is possible to book one of our Standard Tours or to join one of our Group Tours (with guaranteed departures). You can make your own selection of destinations and highlights in our tours using the check boxes on the left. Accommodations can be Lodges/Hotels/Tented Camps or Camping with your own tent.
You can also Design your own Tour
Tours
Highlights
Highlights Kenya
Kenya has many great highlights, too many to mention. Please see the main highlights below. For more details on specific highlights, please scroll further down and follow the link.
Main highlights Kenya:
Safaris to see the Big 5
Maasai Mara
Amboseli
Mount Kenya
Tropical Beaches
Meet the local People
Fantastic scenery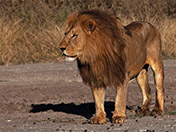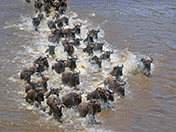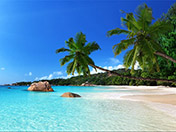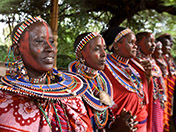 Detailed information about the Highlights of Kenya:
The best game viewing in the world on the endless savannah plains of the Masai Mara during the annual wildebeest migration, with over 2 million Wildebeest and Zebra's.
Kenya as a safari destination is one of the best places in the world to see the Big 5: Elephant, Rhino, Lion, Buffalo and Leopard.
Photo safaris for the Big Five in the vast parks of the Masai Mara, Aberdare National Park, Samburu National Reserve, Amboseli National Park and the huge Tsavo West National Park.
Hot-air ballooning over the Masai Mara plains.
Climbing Mount Kenya, one of the highest mountains in Africa
Walking Safaris to meet the animals at eye level.
Nature Walks surrounded by wild animals
Visit a Maasai village to see the local way of life. It is even possible to spend a night near or in their village.
Visit the Samburu, a semi-nomadic tribe in the north-central Kenya. A unique experience!
Meet the local people with their Historical Sites/Villages The rich cultural heritage complemented by the warm hospitality of the charming people makes for a most memorable experience,
Visit one of the beautiful lakes like Lake Nakuru, Lake Naivasha, Lake Baringo and Lake Bogoria
See the endangered Black and White Rhinos In Lake Nakuru National Park, Ol Pejeta Conservancy, Lewa Wildlife Conservancy , Nairobi National Park and Solio Ranch
Great birding, with over 1000 bird species.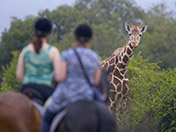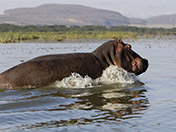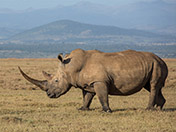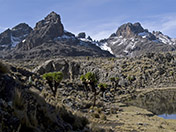 About
About Kenya
Come and see for yourself Kenya has it all:
One of the highest mountains in Africa, Mount Kenya, the largest lake, great savannas with abundant wildlife including the big 5 and the best tropical beaches along the Indian Ocean.
Kenya is a safari hotspot. Expect to see: Elephants, Lions, Buffaloes, Black and White Rhinos, Leopards, Giraffes, Zebras, Hyenas, Warthogs, Hippos, Crocodiles and many antelope species.
Most tourists arrive in Nairobi, Kenya's interesting capital city and end their safari holiday around Mombasa, in a luxury tropical resort overlooking the Indian Ocean.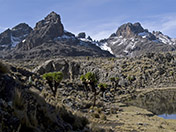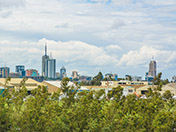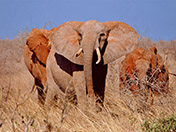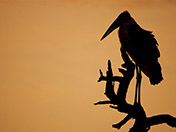 General information about Kenya:
Area: 580.367 sq. km (224.081 sq. miles)
Population. 52 Million people (2019)
Capital city: Nairobi
Major Languages: English and Swahili
Currency: Kenyan Shillings.
Tribes: 42 different tribes.
Highest point: Mount Kenya: 5,197 metres.
Lowest point: Indian Ocean: 0 metres (0 ft)
Longest river: Tana River (Kenya) (wholly within Kenya).
Best Time to visit:
The dry season is from January to March and June to October, the rainy season is usually from April to May and from November to December. One of the best times to visit Kenya is from July to September, during the dry season, this is also when the Great Migration of wildebeest and zebra is in the Maasai Mara. The rainy season is also a good time to travel, as there are fewer tourists and the vegetation is lush and green.
Nairobi:
Nairobi is the capital and the largest city of Kenya. Nairobi is a cosmopolitan city, a melting pot of cultures. It's strategically located to enable travels in either direction to a number of top attractions throughout the country. Nairobi is also a hub for traveling by air.
Nairobi enjoys a mild climate throughout the year, because the city is at a high altitude of 1800 metres above sea level. Nairobi generally has sunny days and cooler nights. Being near the equator the difference between winter and summer is small. The summer is from October to February, with the hottest months being January and February. The coldest month is July, which is relatively dry with temperatures of around 22°C in the day time and about 10°C during the night time.
Nairobi is also well known for being the only city in the world with a national park within its borders; Nairobi National Park.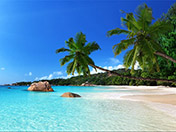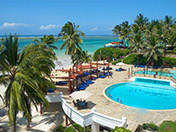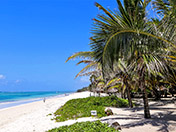 Mombasa and the coastal area:
Mombasa and the Coastal regions can be hot and humid although the Indian Ocean gives a cool breeze, especially between June and September.
Although Kenya has no real winter, summer clothing will normally be good, although some light woolen clothing should be taken for the higher altitudes, like the Maasai Mara and certainly when climbing Mount Kenya.
Most important national parks and game reserves of Kenya:
Aberdare National Park
Amboseli National Park
Chyulu Hills National Park
Hell's Gate National Park
Kakamega Forest National Reserve
Laikipia Plateau
Lake Baringo
Lake Bogoria National Reserve
Lake Naivasha
Lake Nakuru National Park
Lewa Wildlife Conservancy
Maasai Mara National Reserve
Meru National Park
Mount Kenya National park
Mount Longonot National park
Ol Pejeta Conservancy
Samburu National Reserve - Buffalo Springs National Reserve
Shimba Hills National Reserve
Solio Game Reserve)
Tsavo West National Park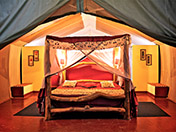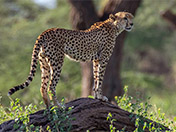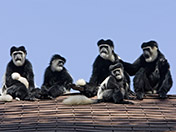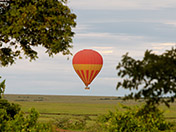 Photos
Video Kenya
Wildlife and Birds
Wildlife and Birds Kenya
East Africa is the best place in the world to watch wildlife. Large animals are more abundant, diverse and visible than anywhere else in the world. East Africa is also one of the best places in the world for birdwatching. It's not unusual for birdwatchers to see 500 or more species in one trip.
Wildlife
There are more then 100 mammal species in East Africa: Elephants, Rhinos, Giraffes, Buffaloes, Lions, Leopards, Cheetahs, Hyenas, Monkeys, Zebras, Warthogs, Bushpigs, Giant Forest Hogs, Hippos and more then 40 antelope species, such as Kudus, Topis, Waterbucks, Hartebeests, Uganda Kobs, Oribis, Bushbucks, Elands, Impalas, Roan Antelopes, and Gazelles. Other species include Nile Crocodiles, Nile Monitors, other lizards and snakes, Mountain Gorillas, Chimpanzees and 15 monkey species.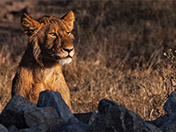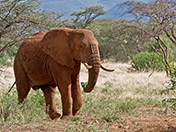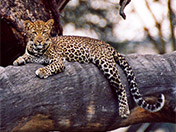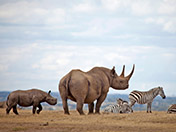 Birds
There are over a thousand bird species, which makes East Africa a birder's paradise. Species include: Shoebill Stork, Saddle Billed Stork, Pelicans, Herons, African Fish Eagle, Bateleur, Long Crested Eagle, Vultures, Owls, Grey Crowned Crane, Great Blue Turaco, Rwenzori Turaco, Hornbills, Honey birds, Sunbirds, Weavers and the African Finfoot.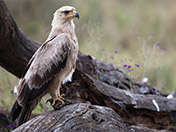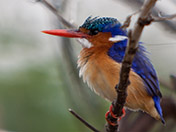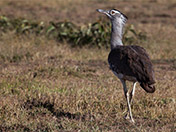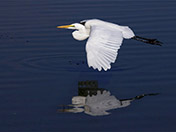 Watching Wildlife
These species are visible in Uganda, Rwanda, Kenya and Tanzania. In the western part of Uganda and in Rwanda, there's an unique combination of the savanna animals from East Africa and the forest animals of West Africa. Species such as Mountain Gorillas, Chimpanzees, Black-and-White Colobus, Red Colobus, L'Hoest's Monkeys, Brazza's Monkeys, Patas Monkeys, Red-Tailed Monkeys, Blue Monkeys, Forest Elephants and Forest Buffaloes.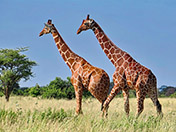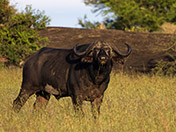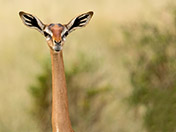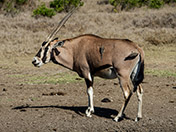 Local people
Local people Kenya
Meet the local people and spend an afternoon with them, have a meal together, visit a school or a typical African Church Ceremony, or visit one of the projects. Kazinga Tours supports the local people and encourages clients to visit one of their programs and give them support.
Kazinga Tours works together with some local Community Based Tourism Organizations. This unique combination gives our customers the opportunity to meet the local people and visit local tribes like the Maasai and the Samburu.
Apart from watching wildlife, Kazinga Tours is famed of promoting Cultural Tourism in Kenya. Kazinga Tours gives personalized services in cultural tours.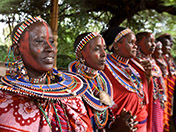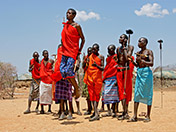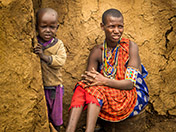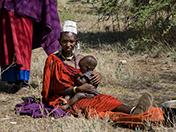 Travel info