Mount Meru Trekking (4 days)
Mount Meru is the smaller brother of Mount Kilimanjaro, reaching 4.565m (14,977ft).
This volcano is very scenic and during the trekking a lot of wildlife can be seen. Whole Mount Meru lies within Arusha National Park. To climb Mount Meru, you don't need any mountain climbing skills, but you must be fit.
Porters will carry all your personal items, equipment and supplies and a cook prepares your meals.
We sleep in huts during the trekking. During the trekking you will be rewarded with fantastic scenic wonders and great panoramas. From early misty mornings to late afternoon sunsets. Mount Meru also gives you the best views of Mount Kilimanjaro.
It is possible to add one day for extra acclimatizing. During this day you will try to see the wildlife of Arusha National Park.
The extra day helps to get used to the high altitude.
Highlights
Photos
Video
Route
Route
Day 1
Kilimanjaro Airport - Arusha
Day 2
Arusha - Mt. Meru Park Gate - Miriakamba Hut
Day 3
Miriakamba Hut - Saddle Hut
Day 4
Saddle Hut - Summit - Miriakamba Hut
Day 5
Miriakamba Hut – Arusha
Day 6
Arusha - Kilimanjaro Airport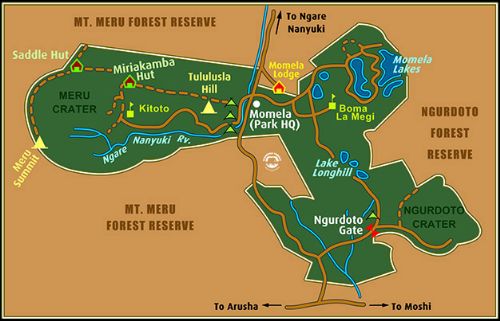 Day to day
Day to day program
Accommodations
Accommodations
Day 1
Kilimanjaro Airport - Arusha
Day 2
Arusha - Mt. Meru Park Gate - Miriakamba Hut
:
Miriakamba Hut (2.590m / 8,500ft)
Day 3
Miriakamba Hut - Saddle Hut
:
Saddle Hut (3.500m / 11,500ft)
Day 4
Saddle Hut - Summit - Miriakamba Hut
:
Miriakamba Hut (2.590m / 8,500ft)
Day 5
Miriakamba Hut – Arusha
Day 6
Arusha - Kilimanjaro Airport
:
Flight (End of Service)
Legend: BB = Bed and Breakfast / FB = Full Board
Prices
Includes
Airport and destination transfers
Meals mentioned in your hotel
All meals (breakfast, lunch and dinner) and drinks during the tracking
Accommodations (hotel and huts during the trekking)
Knowledgeable guide, assistant guide, porters, cook
Rescue and entrance fees to the Arusha National Park
Excludes
Flights
Visa for Tanzania
All optional activities
Insurances
Meals not mentioned and beverages
Tips and personal expenses such as laundry and communication
Gloves, Sun glasses, Sleeping bag, Hats, Rain suits, Warm Jacket, Heavy boots, Scarfs, Rain Trousers
Travel info