Kilimanjaro National Park
Mount Kilimanjaro is the highest mountain in Africa and the tallest freestanding mountain in the world, permanently covered with snow. Mt. Kilimanjaro is an extinct volcano with 3 major peaks: Uhuru Peak (Kibo Peak), 5.895m (19,340ft), Mawenzi Peak, 5.149m (16,893ft) and Shira Peak, 3.962m (12,999ft). Kili can be climbed (hiked) throughout the year with our experienced guides.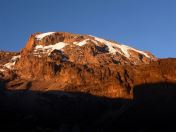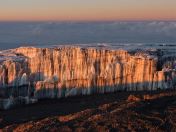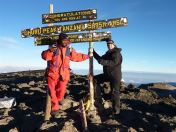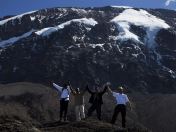 Book one of the routes private or with your own group, or join one of our Group Tours (with guaranteed departures) using the Machame Route. For each of the routes It is possible to add one day for extra acclimatization.
Put on your walking shoes and have this intense and fantastic experience with us!
Tours
Tours Kilimanjaro National Park
More
More Kilimanjaro National Park
We are specialists in Kilimanjaro Climbing (hiking). Our very experienced guides will do their best to help you to reach the summit. Before we start hiking, the guide checks your equipment and in case anything is missing or not okay we make sure we rent it for you. Over 90% of our clients reaches the summit!
Please let us know if you have any question about Kilimanjaro: kilimanjaro@kazingatours.com
Kilimanjaro has 6 different routes:
Marangu Route (also know as Coca Cola Route), 5 days or 6 days. This is the only route using huts, the other routes are camping routes (we carry your tent for your convenience).
Machame Route (also known as the Whiskey route), 6 days or 7 days. Known for it's beautiful sceneries. You can also do this trip as a GROUP TOUR with guaranteed departure.
Rongai Route, 6 days or 7 days. Starting from the North side and gives you the best chances to see wildlife
Lemosho Route, 8 days or 9 days. Ideal for people with more time. It starts slowly, which gives the best chances to reach the summit (because of acclimatization).
Shira Route, 7 days or 8 days. Ideal for people with more time. It starts slowly, which gives the best chances to reach the summit (because of acclimatization).
Umbwe Route, 6 days or 7 days. The most direct route to the summit, and for that reason the most difficult route for people coming from low altitudes.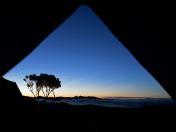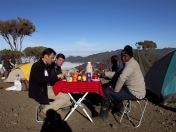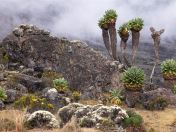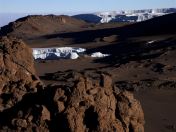 Porters will carry all your personal items, equipment and supplies and a cook prepares your meals during the trekking. We use tents for sleeping during the trekking (except for Marangu Route where we use huts). The porters will take care of the tents.
During the trekking you will be rewarded with fantastic scenic wonders and great panoramas. From early misty mornings to late afternoon sunsets. Mount Kilimanjaro also gives you the best views of Mount Meru.
All our trips include the national park fees and rescue fees!
The guides, cook and porters are vital for your success in reaching the summit, so we have trained them well and pay them. We also regularly give them a checkup to be sure they are able to hike the Kilimanjaro.
We advise our clients to be physically fit when doing the Kilimanjaro climb!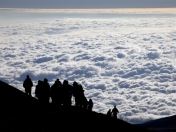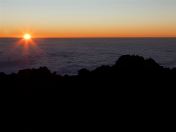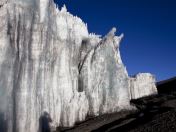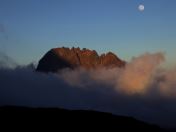 Photos
Video Kilimanjaro National Park
Travel info
Travel info Kilimanjaro National Park