Kilimanjaro Marangu Route (5 days)
The Marangu Route (also known as the Coca Cola route) is the most popular route, partly because it is the least expensive route.
For this route, you don't need any mountain climbing skills, but you must be fit.
The trek starts at Marangu Gate. Porters will carry all your personal items, equipment and supplies and a cook prepares your meals.
The Marangu Route has a well-defined path, which has been well set out and where most obstacles have been modified to make it friendly. Marangu is the only routes with huts (instead of camping).
It is a very scenic route with good views of Mawenzi and chances for viewing wildlife.
Marangu is (after Umbwe) the shortest route to the summit. This is not always the best way due to a shorter acclimatisation period.
To have better acclimatization it is possible to spend an extra acclimatisation day on the mountain. This extends the route to 6 days, greatly increasing your chances of reaching the summit.
Hut accommodation on the Marangu Route forms the main difference compared to the other routes. It offers you the relative luxury of being able to sleep in huts along the entire route.
Mineral water, soft drinks, chocolates and beers are also sold at all the camps on this route.
For the 6-day route, add an additional acclimatisation day at Horombo Hut on the itinerary below (an extra day between day 3 and day 4).
On the extra day you can make a scenic walk towards Mawenzi Hut, passing the Zebra Rocks on the way (about 3 hours up and 1,5 hours down).
The extra day helps to get used to the high altitude.
Highlights
Photos
Video
Route
Route
Day 1
Kilimanjaro Airport - Moshi Town
Day 2
Moshi Town – Marangu Gate – Mandara Hut
Day 3
Mandara Hut – Horombo Hut
Day 4
Horombo Hut – Kibo Hut
Day 5
Kibo Hut – Uhuru Peak – Horombo Hut
Day 6
Horombo Hut – Marangu Gate – Moshi Town
Day 7
Moshi Town - Kilimanjaro Airport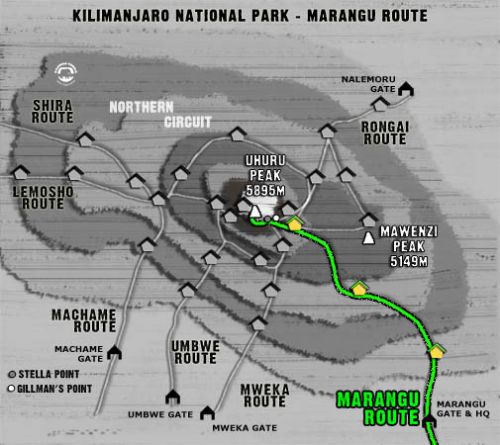 Day to day
Day to day program
Accommodations
Accommodations
Day 1
Kilimanjaro Airport - Moshi Town
:
Keys Hotel (BB) or Kilimanjaro Panama Hotel (BB) or Kilimanjaro Park View Inn (BB)
Day 2
Moshi Town – Marangu Gate – Mandara Hut
:
Mandara Hut (2.700m / 8,900ft)
Day 3
Mandara Hut – Horombo Hut
:
Horombo Hut (3.700m / 12,100ft)
Day 4
Horombo Hut – Kibo Hut
:
Kibo Hut (4.700m / 15,400ft)
Day 5
Kibo Hut – Uhuru Peak – Horombo Hut
:
Horombo Hut (3.700m / 12,100ft)
Day 6
Horombo Hut – Marangu Gate – Moshi Town
:
Keys Hotel (BB) or Kilimanjaro Panama Hotel (BB) or Kilimanjaro Park View Inn (BB)
Day 7
Moshi Town - Kilimanjaro Airport
:
Flight (End of Service)
Legend: BB = Bed and Breakfast
Prices
Includes
Airport and destination transfers
Meals mentioned in your hotel
All meals (breakfast, lunch and dinner) and drinks during the tracking
Accommodations (hotel and huts)
Knowledgeable guide, assistant guide, porters, cook
Rescue and entrance fees to the Kilimanjaro National Park
Excludes
Flights
Visa for Tanzania
Insurances
Beverages
Personal things like sleeping bag, rucksack, footwear, other clothing etc.
Tips and personal expenses such as laundry and communication
Travel info