Uganda
Uganda is called 'The Pearl of Africa'. It offers the best of East and West Africa. A combination animals from the Savannahs and Forests: Elephants, Lions, Buffaloes, Leopards, Giraffes, Mountain Gorillas, Chimpanzees, Forest Elephants, Forest Buffaloes and Giant Forest Hogs.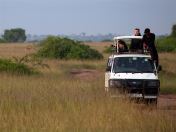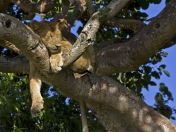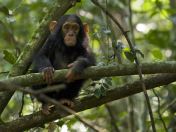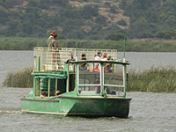 See our Tours below. It is possible to book one of our Standard Tours or to join one of our Group Tours (with guaranteed departures). You can make your own selection of destinations and highlights in our tours using the check boxes on the left. Accommodations can be Lodges / Hotels / Tented Camps or Camping.
You can also Design your own Tour or go to the Group Tours

Tours
Highlights
Highlights Uganda
Wildlife and Nature
Game drives on the Savannas of Murchison Falls National Park, Queen Elizabeth National Park, Kidepo Valley National Park, Lake Mburo National Park and Semliki Wildlife Reserve. Wildlife includes: Elephants, Lions, Buffaloes, Leopards, Giraffes, Zebras, Hyenas, Warthogs, Baboons, Hippos, Crocodiles and a lot of beautiful bird species.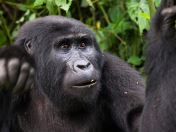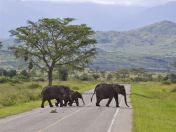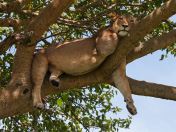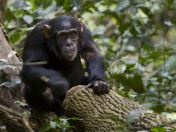 Spot the tree climbing lions on the plains of Ishasha, southern part of the Queen Elizabeth National Park.
Birdwatching with up to 1000 bird species. It is possible for a birder to see up too 500 species in one trip.
See up to 13 monkey species during a nature walk in Kibale Forest National Park. The species include Black and White Colobus, Red Tailed monkeys, Patas monkeys, L'Hoest monkeys, Baboons, Chimpanzees and up to 335 bird species.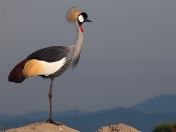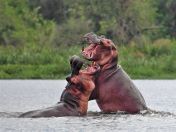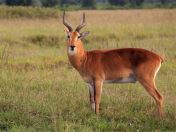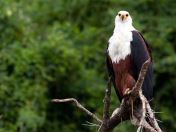 Things to See and To Do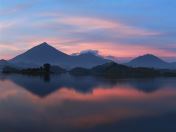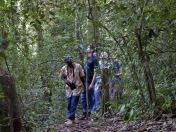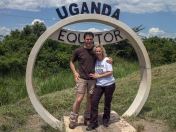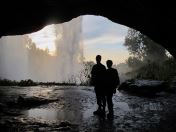 Meet the Local People
Visit local tribes, enjoy a typical African church ceremony or spend an afternoon with a local family.
Visit the pygmies and experience their unique culture.
Volunteer in local education, health care, or conservation projects.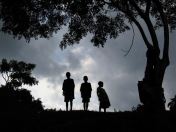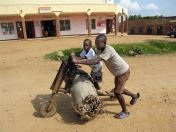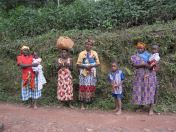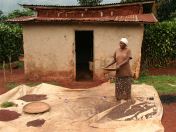 About
About Uganda
Come and see for yourself Uganda has it all:
The highest mountain-range of Africa, the largest lake, the great savannas of Kenya and Tanzania and the vast tropical rainforests of Congo and Rwanda. Uganda offers the best of everything from East and West Africa. An unique combination of the large animals like Elephants, Lions, Buffaloes, Leopards, Giraffes, Zebras, Hyenas, Warthogs, Hippos and Crocodiles from the savannas and the forest animals like Chimpanzees, Gorillas, Black and White Colobus Monkeys, Red-tailed Monkeys, Patas Monkeys, Blue Monkeys, Forest Elephants, Forest Buffaloes and Giant Forest Hogs.

Most tourists arrive at Entebbe's modern and efficient international airport, with its breathtaking location on the shores of Lake Victoria. Just 40 kilometers away, sprawled across seven hills, there is the capital Kampala. A modern and bustling cosmopolitan city, which reflects the ongoing economic growth and political stability that has characterized Uganda for the last 20 years.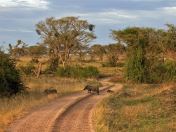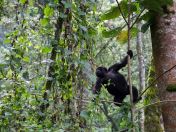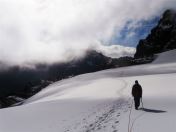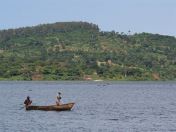 There is more to Uganda than wildlife: The mighty Nile, with it's spectacular Murchison Falls, the setting for some of the world's best white-water rafting. There are the snow-capped mountains of the Rwenzori, and the Virunga Volcanoes and Mount Elgon, both with a lot of hiking opportunities through a beautiful scenery. Uganda has a few beautiful big lakes like Lake Victoria and Lake Bunyonyi. And apart from that, Uganda has the reputation as 'Africa's Friendliest Country', with the tradition of hospitality and a remarkably low level of crime and hassle directed at tourists. The official language of Uganda is English and the currency is Ugandan Shilling (USh). The land is 236.580 sq. kilometers, with a population of 24,5 million.

Uganda is a tropical country and much of it lies on the African plateau between 900-1,500 meters above sea level. This gives Uganda a nice tropical climate, with temperatures averaging between 21 and 27 degrees Celsius during the day and between 12 and 18 degrees Celsius at night. The hottest months are from December to February, with 27 to 29 degrees Celsius. The rainy seasons are from April to May and October to November.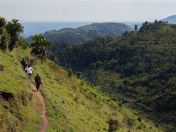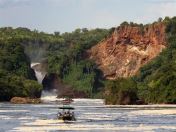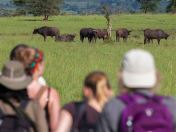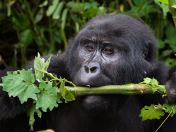 Uganda is well watered and fertile, almost 25% of the country is covered with water. Lake Victoria is shared by Uganda with Kenya and Tanzania. Lake Albert, Lake Edward and Lake George lie on the border with Congo (DRC). At Jinja, Owen Falls is regarded as the source of the Nile.

Uganda is a cultural melting pot, with 30-plus different languages belonging to five distinct linguistic groups. The country's most ancient inhabitants, confined to the hilly southwest, are the Batwa and Bambuti Pygmies. They left behind a rich legacy of rock paintings, such as those at the Nyero Rock Shelter near Kumi. The cultural core of modern Uganda are the Bantu-speaking kingdoms of Buganda, Bunyoro, Ankole and Toro. According to oral tradition, these centuries-old kingdoms are offshoots of the mediaeval kingdoms of Batembuzi and Bacwezi. Three former kings of Buganda are buried in an impressive traditional thatched building at the Kasubi Tombs in Kampala. Other cultures in Uganda are: Karimojong, Maasai, Bakonjo and the Bagisu.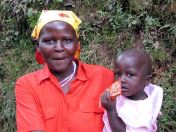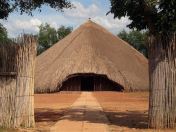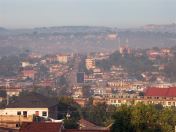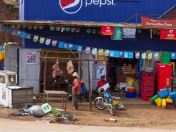 Photos
Videos
Videos Uganda
Kazinga Tours - Uganda Highlights
Kazinga Tours - Uganda from the Sky - Highlights
See the beautiful landscapes and animals of Uganda from the sky, filmed with a drone. This is the highlights movie, please look at the videos from the specific areas as well. Places visited with our drone: Murchison Falls, Kibale, Queen Elizabeth, Lake Mutanda, Lake Bunyonyi and Lake Mburo National Park.
Kazinga Tours - Lake Mburo NP From The Sky
In this video we explore the beautiful Lake Mburo National Park from the Sky. On this day, we were the only ones who saw the giraffes.
Kazinga Tours - Murchison Falls Waterfall from the Sky
We explored the amazing Murchison Falls Waterfall from the sky! With our drone we were able to make unique photos and videos. From the main waterfall which is visible from the boat and top of the falls, but also from the hidden second waterfall. Please enjoy flying on top of the mighty waterfall in the Nile!
Kazinga Tours - Mountain Biking in Uganda
Uganda is a great place for Mountain Biking! We explored Lake Mburo National Park on our MTB and enjoyed it a lot. See all the zebras, Impalas, Ankole Long-Horned Cattle and beautiful nature. We used cameras on our bikes and a drone to film us from above.
Kazinga Tours - Bwindi Impenetrable Forest
Seeing the mountain gorillas is a very intense and unique experience. Take a look at our Video to get a glimpse of how it is to see them in the wild….
Kazinga Tours – Murchison Falls National Park
Murchison Fall National Park is one of the best national parks in Uganda. See the spectacular Murchison Falls, a huge waterfall in the Nile. Murchison Falls is home to the big 4: Elephants, Buffalos, Lions and Leopards.
Kazinga Tours – Crater Lakes Uganda
Uganda has some very beautiful Crater Lakes. They can be found in Kibale Forest area and in and around Queen Elizabeth National Park. To see them from the ground is nice, but the real beauty can only be seen from the sky! Come and see for yourself!
Kazinga Tours – Murchison Falls National Park by drone
We explored the amazing Murchison Falls National Park with our drone! We saw the beautiful landscapes and a lot of animals from the sky. Most special were the elephants playing in the water, the hippo with fish around him and the silhouettes of giraffes and elephants. Please enjoy flying with us.
Kazinga Tours – Kibale Forest and Tea Plantations
Kibale Forest National Park is one of the highlights of Uganda. This beautiful forest is home to the Chimpanzees and 12 monkey species. The forest creates its own mist. With our drone we have been able to fly above the mist, which gave a spectacular view of the forest with the Rwenzori Mountains behind it. Apart from the National Park, Kibale Forest is surrounded by tea plantations, which gives beautiful views from above. Come and see this beautiful videos for yourself!
Subscribe to our YouTube Channel to see our new uploads!
This video is made by www.theworldfromthesky.com
Kazinga Tours – Queen Elizabeth National Park
Queen Elizabeth National Park is a spectacular national park in Western Uganda. It is home to the Kazinga Channel, a natural channel which is believed to have the highest population of hippos. Queen Elizabeth National Park is also home of many animals including the Big 4: Elephants, Buffalos, Lions and Leopards. In the Southern sector of the park, in Ishasha, tree climbing lions can be found.
Kazinga Tours - Lake Bunyonyi and Lake Mutanda from the Sky
Two of the most beautiful lakes of Africa are in Uganda: Lake Bunyonyi and Lake Mutanda! Lake Bunyonyi looks spectacular from the sky, with its round shapes and many small islands. The highlights of Lake Mutanda re the 5 volcanoes which can be seen. Come and see this beautiful videos for yourself. Travel to Uganda with Kazinga Tours.
Wildlife and Birds
Wildlife and Birds Uganda
East Africa is the best place in the world to watch wildlife. Large animals are more abundant, diverse and visible than anywhere else in the world. East Africa is also one of the best places in the world for birdwatching. It's not unusual for birdwatchers to see 500 or more species in one trip.

Wildlife
There are more then 100 mammal species in East Africa: Elephants, Rhinos, Giraffes, Buffaloes, Lions, Leopards, Cheetahs, Hyenas, Monkeys, Zebras, Warthogs, Bushpigs, Giant Forest Hogs, Hippos and more then 40 antelope species, such as Kudus, Topis, Waterbucks, Hartebeests, Uganda Kobs, Oribis, Bushbucks, Elands, Impalas, Roan Antelopes, and Gazelles. Other species include Nile Crocodiles, Nile Monitors, other lizards and snakes, Mountain Gorillas, Chimpanzees and 15 monkey species.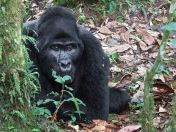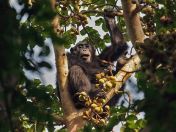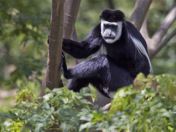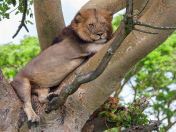 Birds
There are over a thousand bird species, which makes East Africa a birder's paradise. Species include: Shoebill Stork, Saddle Billed Stork, Pelicans, Herons, African Fish Eagle, Bateleur, Long Crested Eagle, Vultures, Owls, Grey Crowned Crane, Great Blue Turaco, Rwenzori Turaco, Hornbills, Honey birds, Sunbirds, Weavers and the African Finfoot.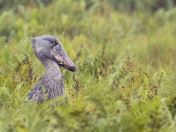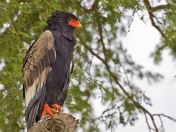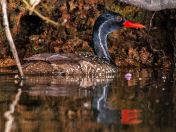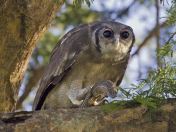 Watching Wildlife
All these species are visible in Uganda, Rwanda and Tanzania. And in the western part of Uganda and in Rwanda, there's an unique combination of the savanna animals from East Africa and the forest animals of West Africa. Species such as Mountain Gorillas, Chimpanzees, Black-and-White Colobus, Red Colobus, L'Hoest's Monkeys, Brazza's Monkeys, Patas Monkeys, Red-Tailed Monkeys, Blue Monkeys, Forest Elephants and Forest Buffaloes. According to the Lonely Planet Uganda offers the best of everything from East and West Africa.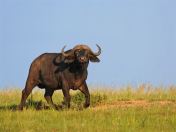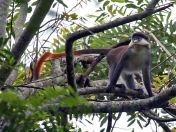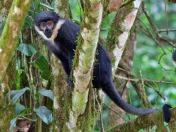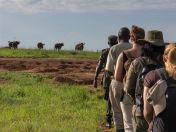 ​
Local people
Local people Uganda
Meet the local people and spend an afternoon with them, have a meal together, visit a school or a typical African Church Ceremony, or visit one of the projects. Kazinga Tours supports the local people and encourages clients to visit one of their programs and give them support.
Kazinga Tours is working together with Akatagyenda Community Based Tourism. This unique combination gives the opportunity to meet the local people of Uganda and visit local tribes. Its not a treasure to see Uganda without meeting the local people, so shape your safari with local people!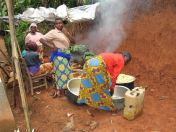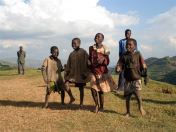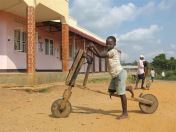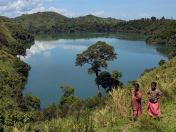 ​
About Akatagyenda
Akatagyenda was established as an umbrella organization representing communities in destination areas of S.Western Uganda to understand the importance of traveling leading to tourism as a business, which Akatagyenda believes, is among the best sectors to help communities get out of poverty. Further, its purpose is to empower local communities in sustainable development that can plan, manage and develop themselves.
With the growth of tourism during the 1990's, communities near 'protected areas' and national parks discovered an opportunity - tourism. Uganda, as a tourism destination, had become more suited to the smaller scale, environmentally related tourism called Eco-tourism. The hope of Akatagyenda is the formation of a symbiotic relationship between tourism, indigenous people and natural, environmentally sensitive areas.
Tourism in Uganda offers one of the best hopes for increasing the income of local people and at the same time preserving 'protected areas'.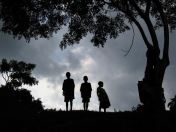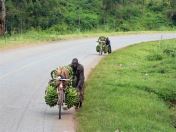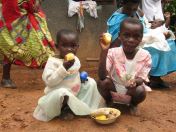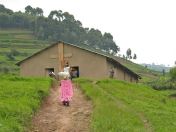 AKATAGYENDA will encourage communities to develop tourism activities that they can plan, manage and develop themselves. These activities should not take over from the more traditional agricultural based economies but provide a needed 'cash crop'. This is essential to the well being of the community and the tourism industry that they are trying to create.
Community tourism can involve everyone. Those in the community, who do not speak English, have poor education levels or work experience can still be employed as porters, to transport water and firewood, in trail and compound maintenance and for construction as labourers. These are not /dead-end /jobs and community members will find opportunities to move into other positions as they develop the needed skills.
Tourism, or rather a lot of tourists, does not mean that the area or inhabitants of an area will directly benefit from that tourism spending. Unless the area of opportunity for the community involves various sectors, the community may not take ownership of this difficult industry. Tourism revenue should not only be reflected in the jobs and expenditure directly related to the visit, but should also be found in sectors such as agriculture or construction or health care.
AKATAGYENDA will continue the community opportunity through the development of handcrafts, Bee Keeping as well as dance, song and drama. These activities widen the opportunity for both the visitor and the community. Shopping is a major part of as holiday. Quality craftwork is something that can be taken home in order to share the holiday experience. Handcrafts can also be sold outside the community through shops in Kampala, or even exported if community members are well organized and sensitized.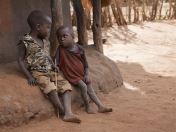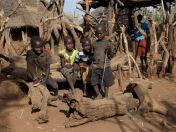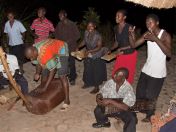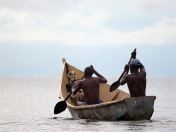 Akatagyenda Project Aims:
To encourage quality community based tourism with the aim of benefiting communities through sustainable development.
Developing and encouraging the development of infrastructure in rural areas for easy access to the protected areas.
Restore the rich cultural and traditional heritage of Unawatuna and toensure that it is a quality tourism destination.
Preserve and promote the rich religious and cultural values of the destination area.
Giving value to and promoting traditional skills, values, Cultures and history of the communities.
Encourage and increase the inflow of foreign tourists, by providing exceptional catering, free from harassment and pollution, with appropriate infrastructure and sanitation facilities.
Job creation for the poor and marginalized sectors.
Tourism awareness training for the communities.
Utilize local resources and skills to enhance the tourism industry's income and in turn benefit the host community.
Lobbying of private sector to use CBT activities.
Training on natural resource management and sustainable technologies for communities.
Travel info