Complete Northern Circuit (14 days)
Our 14-day Africa wildlife safari specifically includes all the national parks of the Northern Circuit (except for Kilimanjaro NP): the Ngorongoro Crater, Serengeti National Park, Lake Manyara National Park, Tarangire National park, Arusha National Park, Mkomazi National Park and Lake Natron with Oldonyo Lengai, an active volcano. This specific African safari and travel itinerary has been designed for visitors who want to see it all! This trip is also ideal for photographers who like to see a lot of wildlife and stunning panoramas.
Highlights
Highlights
Game drives (safaris) on the savannahs of Tarangire, Lake Manyara, Mkomazi and Serengeti National Park with chances of seeing the wildlife from close quarters
Very good chances of seeing the Big Five: Elephant, Rhino, Lion, Leopard and Buffalo
The best large game viewing in the world on the endless savannah plains of the Serengeti, with the Big Migration, with over 2 million zebra's and wildebeest
One of the eight Wonders of the world, the Ngorongoro Crater with outstanding wildlife, including the endangered Black Rhino
The tree climbing lions and spectacular views in Lake Manyara National Park
Fantastic scenery with Mount Meru and Kilimanjaro in Arusha National Park
A stretch of Kenya's Tsavo National Park in Mkomazi National Park, including the rare Gerenuk, the Giraffe Antelope
Lake Natron has a huge soda lake with Flamingos. Walk up to the waterfall with natural shower
See the Oldonyo Lengai, an active volcano with spectacular panoramas
Meet the Local People like the Maasai and Hadzabe (Bushmen) and see their local way of living
Photos
Video
Video
Kazinga Tours - Murchison Falls Waterfall from the Sky
We explored the amazing Murchison Falls Waterfall from the sky! With our drone we were able to make unique photos and videos. From the main waterfall which is visible from the boat and top of the falls, but also from the hidden second waterfall. Please enjoy flying on top of the mighty waterfall in the Nile!
Route
Route
Day 1
Kilimanjaro Airport - Moshi Town
Day 2
Moshi Town – Mkomazi National Park
Day 3
Mkomazi National Park – Arusha National Park
Day 4
Arusha National Park – Tarangire National Park
Day 5
Tarangire National Park – Lake Eyasi
Day 6
Lake Eyasi - Ngorongoro Conservation area (Karatu)
Day 7
Ngorongoro Conservation area (Karatu) - Ngorongoro Crater
Day 8
Ngorongoro Crater - Serengeti National Park (Ndutu area)
Day 9
Serengeti National Park (Ndutu area) - Serengeti National Park (Seronera area)
Day 10
Serengeti National Park (Seronera area)
Day 11
Serengeti National Park (Seronera area) - Serengeti National Park (Lobo area)
Day 12
Serengeti National Park (Lobo area) – Lake Natron
Day 13
Lake Natron – Lake Manyara National Park
Day 14
Lake Manyara National Park - Kilimanjaro Airport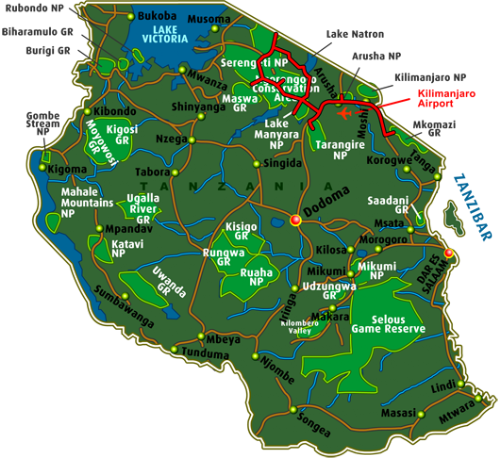 Day to day
Day to day program
Accommodations
Accommodations
Medium Budget
High Budget
Day 1
Kilimanjaro Airport - Moshi Town
Medium Budget:
Pink Flamingo (BB)
High Budget:
Pink Flamingo (BB)
Day 2
Moshi Town – Mkomazi National Park
Medium Budget:
Elephant Motel (FB)
High Budget:
Babu's Camp (FB)
Day 3
Mkomazi National Park – Arusha National Park
Medium Budget:
Meru Simba Lodge (FB)
High Budget:
Arumeru River Lodge (FB)
Day 4
Arusha National Park – Tarangire National Park
High Budget:
Maramboi Tented Camp (FB)
Day 5
Tarangire National Park – Lake Eyasi
Medium Budget:
Lake Eyasi Safari Lodge (FB)
High Budget:
Ziwani Lodge (FB)
Day 6
Lake Eyasi - Ngorongoro Conservation area (Karatu)
High Budget:
Ngorongoro Farm House Lodge (FB)
Day 7
Ngorongoro Conservation area (Karatu) - Ngorongoro Crater
Day 8
Ngorongoro Crater - Serengeti National Park (Ndutu area)
Day 9
Serengeti National Park (Ndutu area) - Serengeti National Park (Seronera area)
High Budget:
Serengeti Sopa Lodge (FB)
Day 10
Serengeti National Park (Seronera area)
High Budget:
Serengeti Sopa Lodge (FB)
Day 11
Serengeti National Park (Seronera area) - Serengeti National Park (Lobo area)
High Budget:
Mbuzi Mawe Tented Camp (FB)
Day 12
Serengeti National Park (Lobo area) – Lake Natron
Medium Budget:
Lake Natron Tented Camp (FB)
High Budget:
Lake Natron Tented Camp (FB)
Day 13
Lake Natron – Lake Manyara National Park
Medium Budget:
Migunga Tented Camp (FB)
Day 14
Lake Manyara National Park - Kilimanjaro Airport
Medium Budget:
Flight (End of service)
High Budget:
Flight (End of service)
Legend: BB = Bed and Breakfast / HB = Half Board / FB = Full Board
Prices
Includes
Airport transfers
Accommodations with meals mentioned
Bottled drinking water
Private 4x4 custom built safari van with knowledgeable driver/guide and fuel
Entrance fees to the included National Parks
Activities mentioned as included
Excludes
Flights
Visa
All optional activities
Insurances
Meals not mentioned and beverages
Tips and personal expenses such as laundry and communication
Travel info