Highlights Kenya and Diani Beach (15 days)
Our 15 days Highlights of Kenya trip brings you the highlights of Kenya. Expect to see the best of wildlife in Maasai Mara, thefFlamingos of Lake Naivasha, rhino watching at Solio Rhino Sanctuary, the famous elephant herds of Amboseli, big game in Tsavo East and relaxing at Diani beach at the coast.
This trip specifically includes the most important and well-known national parks and other places of interest of Southern Kenya: Maasai Mara National Reserve, Lake Naivasha, Hell's Gate National Park, Amboseli National Park, Tsavo East National Park and Diani Beach.
Highlights
Highlights
Game drives (safaris) in the Maasai Mara National Reserve. The Maasai Mara is famous for its large herds of wildebeest and zebras and large prides of lions
Take a guided boat cruise on Lake Naivasha, including a visit to Crescent Island
The millions of Greater and Lesser Flamingos which gather at Lake Naivasha and Lake Nakuru.
View the White Rhinos in Lake Nakuru
Rhino watching at Solio Rhino sanctuary
Make a walk or cycle on the plains of the beautiful Hell's Gate National Park with magnificent landscapes
Viewing the largest herdes of elephants in Amboseli National Park and magnificient views of Mount Kilimanjaro across the border in Tanzania
Enjoy the great wildlife viewing in pristine wilderness in Tsavo East National Park, home to the Big 5
Relax at the Diani Beach
Photos
Video
Route
Route
Day 1
Nairobi Airport - Nairobi
Day 2
Nairobi – Maasai Mara National Reserve
Day 3
Maasai Mara National Reserve
Day 4
Maasai Mara - Lake Naivasha
Day 6
Lake Naivasha - Hell`s Gate National Park - Lake Naivasha
Day 7
Lake Naivasha - Amboseli National Park
Day 8
Amboseli National Park
Day 9
Amboseli National Park - Tsavo East National Park
Day 10
Tsavo East National Park
Day 11
Tsavo East National Park - Mombasa (Diani Beach)
Day 15
Diani Beach - Mombasa Airport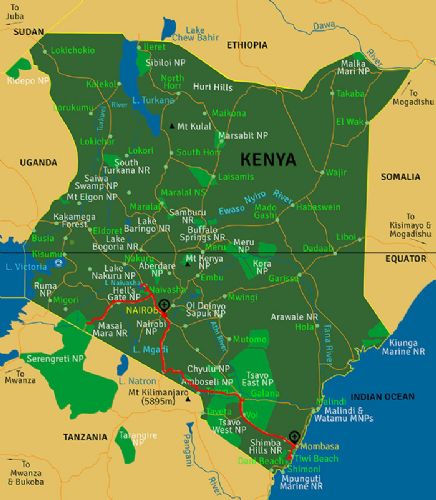 Day to day
Day to day program
Accommodations
Accommodations
Medium Budget
High Budget
Day 1
Nairobi Airport - Nairobi
Medium Budget:
Jacaranda Hotel (BB)
High Budget:
Radisson Blu (BB)
Day 2
Nairobi – Maasai Mara National Reserve
Medium Budget:
Camp Oloshaiki (FB)
High Budget:
Sarova Mara (FB)
Day 3
Maasai Mara National Reserve
Medium Budget:
Camp Oloshaiki (FB)
High Budget:
Sarova Mara (FB)
Day 4
Maasai Mara - Lake Naivasha
Medium Budget:
Naivasha Kongoni (FB)
High Budget:
Naivasha Sopa Lodge (FB)
Medium Budget:
Naivasha Kongoni (FB)
High Budget:
Naivasha Sopa Lodge (FB)
Day 6
Lake Naivasha - Hell`s Gate National Park - Lake Naivasha
Medium Budget:
Naivasha Kongoni (FB)
High Budget:
Naivasha Sopa Lodge (FB)
Day 7
Lake Naivasha - Amboseli National Park
Medium Budget:
Kibo Safari Camp (FB)
High Budget:
Ol Tukai (FB)
Day 8
Amboseli National Park
Medium Budget:
Kibo Safari Camp (FB)
High Budget:
Ol Tukai (FB)
Day 9
Amboseli National Park - Tsavo East National Park
Medium Budget:
Voi Wildlife Lodge (FB)
High Budget:
Voi Wildlife Lodge (FB)
Day 10
Tsavo East National Park
Medium Budget:
Voi Wildlife Lodge (FB)
High Budget:
Voi Wildlife Lodge (FB)
Day 11
Tsavo East National Park - Mombasa (Diani Beach)
Medium Budget:
Jacaranda IOBR (HB)
High Budget:
Océan Village club (HB)
Medium Budget:
Jacaranda IOBR (HB)
High Budget:
Océan Village club (HB)
Medium Budget:
Jacaranda IOBR (HB)
High Budget:
Océan Village club (HB)
Medium Budget:
Jacaranda IOBR (HB)
High Budget:
Océan Village club (HB)
Day 15
Diani Beach - Mombasa Airport
Medium Budget:
Flight (End of Service)
High Budget:
Flight (End of Service)
Legend: BB = Bed and Breakfast / HB = Half Board / FB = Full Board
Prices
Includes
Airport transfers
Accommodations with meals mentioned
Bottled drinking water
Private 4x4 custom built safari vehicle with knowledgeable driver/guide and fuel
Entrance fees to the included National Parks
Activities mentioned as included
Excludes
Flights
Visa
All optional activities
Insurances
Meals not mentioned and beverages
Tips and personal expenses such as laundry and communication
Travel info