Birding through Uganda (22 days)
Our 22-day trip brings you the best of the birdlife in Uganda.
Uganda has a variety of landscapes and over 1000 bird species! This trip brings you to the most important birding sites in Uganda. Habitats to be seen: Forest, Lowland jungle, Swamps, Canals and Lakes, Mountains and Savannahs.
Expect to see over 400 bird species and also the large animals of the savannahs (lion, elephant, buffalo, giraffe, hippo, leopard) and up to 16 primate species, including gorillas and chimps!!!
Birding sites to be seen: Mabamba Swamp, Entebbe Botanical Gardens, Mabira Forest, The Nile in Jinja, Kaniyo Pabidi (Budongo Forest), Murchison Falls National Park, Kibale Forest National Park, Bigodi Swamps, Semuliki National Park, Semliki Wildlife Reserve, Queen Elizabeth National Park, Kazinga Channel, Bwindi National Park, Mubwindi Swamp, Lake Bunyonyi and Lake Mburo National Park.
Highlights
Highlights
See the Shoebill Stork in Mabamba Swamp, Semliki Wildlife Reserve or Murchison Falls National Park
Game drives (safaris) on the savannahs of Murchison Falls and Queen Elizabeth National Park, with chances of seeing the birds and wildlife from close quarters
Boattrip on the Nile to the Murchison Falls, where the Nile is forced through a gorge and drops 60 meters. The boat is the perfect platform to make photos of the birds.
Spectacular bird and wildlife viewing from the boat on the Nile where it reaches the delta into Lake Albert
See the chimpanzees and 12 other monkey species in Kibale Forest
See the unique Bigodi Swamps with spectacular birdlife
Experience the spectacular hot springs and birds in Semuliki National Park. This is the only Lowland jungle in East Africa!
Boattrip on the Kazinga Channel with the biggest concentration of hippos and spectacular birds
Meet the Mountain Gorillas and endemic birds in Bwindi National Park
Enjoy the silence and beautiful landscape in Uganda's most beautiful lake, Lake Bunyonyi
Photos
Route
Route
Day 2
Entebbe - Mabamba - Entebbe
Day 3
Entebbe - Mabira Forest - Jinja - Kampala
Day 4
Kampala - Murchison Falls National Park
Day 5
Murchison Falls National Park
Day 6
Murchison Falls National Park
Day 7
Murchison Falls National Park- Hoima
Day 8
Hoima - Kibale Forest
Day 11
Kibale Forest - Semuliki National Park
Day 12
Semuliki National Park - Semliki Wildlife Reserve - Fort Portal
Day 13
Fort Portal - Queen Elizabeth National Park
Day 14
Queen Elizabeth National Park
Day 15
Queen Elizabeth National Park - Bwindi Impenetrable
Day 16
Bwindi Impenetrable
Day 17
Bwindi Impenetrable
Day 18
Bwindi Impenetrable
Day 19
Bwindi Impenetrable - Lake Bunyonyi
Day 21
Lake Bunyonyi - Lake Mburo National Park
Day 22
Lake Mburo National Park - Entebbe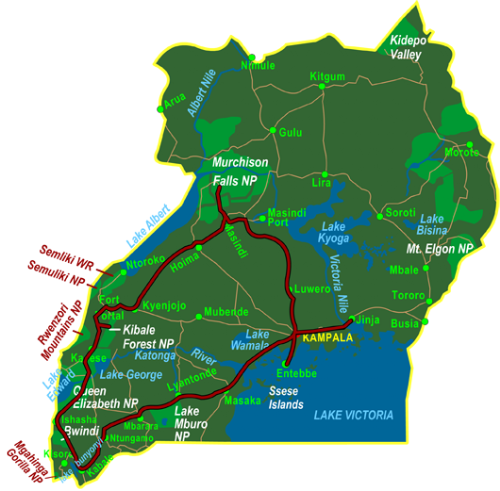 Day to day program
Day to day program
Accommodations
Accommodations
Medium Budget:
Airport Guest House (BB)
Day 2
Entebbe - Mabamba - Entebbe
Medium Budget:
Airport Guest House (BB)
Day 3
Entebbe - Mabira Forest - Jinja - Kampala
Medium Budget:
Forest Cottages (BB) or Nanjing Motel (BB)
Day 4
Kampala - Murchison Falls National Park
Medium Budget:
Pakuba Safari Lodge (HB)
Day 5
Murchison Falls National Park
Medium Budget:
Pakuba Safari Lodge (HB)
Day 6
Murchison Falls National Park
Medium Budget:
Pakuba Safari Lodge (HB)
Day 7
Murchison Falls National Park- Hoima
Medium Budget:
Hoima Cultural Lodge (BB)
Day 8
Hoima - Kibale Forest
Medium Budget:
Chimps` Nest (BB)
Medium Budget:
Chimps` Nest (BB)
Medium Budget:
Chimps` Nest (BB)
Day 11
Kibale Forest - Semuliki National Park
Medium Budget:
Rwenzori View Guesthouse (BB)
Day 12
Semuliki National Park - Semliki Wildlife Reserve - Fort Portal
Medium Budget:
Rwenzori View Guesthouse (BB)
Day 13
Fort Portal - Queen Elizabeth National Park
Medium Budget:
Kasenyi Safari Camp (BB)
Day 14
Queen Elizabeth National Park
Medium Budget:
Kasenyi Safari Camp (BB)
Day 15
Queen Elizabeth National Park - Bwindi Impenetrable
Medium Budget:
Buhoma Community Rest Camp (BB)
Day 16
Bwindi Impenetrable
Medium Budget:
Buhoma Community Rest Camp (BB)
Day 17
Bwindi Impenetrable
Medium Budget:
Buhoma Community Rest Camp (BB)
Day 18
Bwindi Impenetrable
Medium Budget:
Gorilla Mist Camp (BB)
Day 19
Bwindi Impenetrable - Lake Bunyonyi
Medium Budget:
Lake Bunyonyi Eco Resort (BB)
Medium Budget:
Lake Bunyonyi Eco Resort (BB)
Day 21
Lake Bunyonyi - Lake Mburo National Park
Medium Budget:
Mburo Safari Lodge (HB)
Day 22
Lake Mburo National Park - Entebbe
Medium Budget:
Flight (End of service)
Legend: BB = Bed and Breakfast / HB = Half Board / FB = Full Board
Prices
Prices 2017
Prices per person, in USD, based on double/twin sharing
Medium Budget
Based on private group of 6 persons
3.745
Based on private group of 4-5 persons
4.235
Based on private group of 2-3 persons
5.450
Gorilla Tracking
Low Season
(Apr-May-Nov)
High Season
Gorilla Permit per person
450
600
Options
Single room Supplement
625
Upgrade to Full Board per person per day
30
Some lodges may ask for seasonal surcharges for the Easter and Christmas Holidays
Includes
Airport transfers
Accommodations with meals mentioned
Bottled drinking water
4x4 custom built safari vehicle with knowledgeable driver/guide and fuel
Entrance fees to the included National Parks
The following activities: bird watching, game drives, chimpanzee tracking in Kibale Forest, 2 boat trips on the Nile, boat trip in Semliki, boat trip on the Kazinga Channel, boat trip on Lake Mburo, game walk in Lake Mburo
Excludes
International flights
Visa for Uganda
All optional activities
Insurances
Meals not mentioned and beverages
Tips and personal expenses such as laundry and communication
Travel info