Bwindi Impenetrable National Park
Bwindi Impenetrable National Park is located in southwestern Uganda and the highlight for many people who visit Uganda, because the Mountain Gorillas live there!
It comprises of 331 square kilometres of jungle forests and contains both montane and lowland forest. The park is only accessible on foot.
The park provides a habitat for 119 species of mammals, including 11 primates, 348 species of birds and 200 species of butterflies.
The park is inhabited by about 450 mountain gorillas. There are eight habituated Mountain Gorilla groups open to tourism.
Tours
Tours Bwindi Impenetrable National Park
More
More Bwindi Impenetrable National Park
This UNESCO Biosphere became a national park in 1991. Over the years, this development has ushered in a turning point that has zeroed down its poaching rate. In turn, this has facilitated the steady increase in population of mountain gorillas and other 119 mammal species to whom it is home like forest elephants, giant forest hog, golden cat and chimpanzees.
Bwindi is an extraordinarily beautiful destination; a spectacular green swathe of tangled rainforest that clings to the steep ridges of the Western Rift Valley. As per the 2018 gorilla census, about 450 gorillas live here, roughly 210 of which are habituated for gorilla tracking. They belong to 18 groups living in it's four trailheads; Nkuringo, Buhoma, Ruhijja and Rushaga. Each of these possesses a dense jungle that makes gorilla trekking hard work but is totally worth the effort. Why? Your pursuit is rewarded with a quality one hour with these majestic primates.
Nothing can beat the excitement when your tracker halts abruptly in front of you, hesitantly sniffs and listens to the crisp air, and then slowly points to some rustling in the trees. On further inspecting, you will discovered some gorillas harvesting wild fruits. If you sit down, hoping for some action, you won't be disappointed. Out of nowhere more and more gorilla individuals will arrive and start their famous humming in deep voices. Hearing it is such a goose bump raising stuff. The trails are quite wide for them to cross, so they often descend down the trees to connect. This offers you a chance to get up close pictures.
Some parts of the hike are a tough scramble up and down on wet and slippery hills through the dense undergrowth. The good news is that your efforts are never in vain. No matter the time of your visit, you have a 99% probability of finding the gorilla family you have been allocated. That aside, there are porters to give you a helping hand whenever you need it as you hike.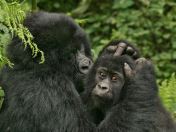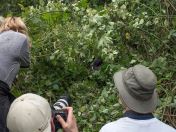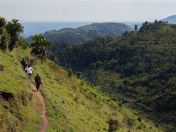 Gorilla habituation
If you wish to have a more immersive experience with the gorillas, the Gorilla Habituation Experience is worth a star recommendation, and justifiably worth the $1,500 cost.
It entails pursuing Bikingi, a gorilla group that isn't fully habituated yet. Although they are extremely wild at heart because they haven't been exposed to tourists, they restrain their anger and never launch attacks. Nonetheless, you are strongly advised to observe silence once in their presence because they have zero tolerance for noise. This adventure is considered a more immersive experience. Instead of just one hour, you will have four hours starting from when you reach the nest where they spent the previous night.
You need a relative level of fitness for this adventure because it is at times edgy, and often more exhausting compared to gorilla tracking. The individuals in Bikingi group aren't as calm, or docile, as other groups can be when they're fully habituated. They move much faster, nothing beats the thrill of moving with them as you observe their wild ways of life.
On the bright, in here you will find a labyrinth of channels and ponds where you can have a refreshing swim.
Best time to visit: Wildlife viewing in Bwindi is good year-round, but exceptionally great from April to mid-May and from October to November. No matter the time of your visit, carry an umbrella and warm clothing. Here, it starts raining anytime.
Photos
Videos
Videos Bwindi Impenetrable National Park
Kazinga Tours - Uganda Highlights
Kazinga Tours - Uganda from the Sky - Highlights
See the beautiful landscapes and animals of Uganda from the sky, filmed with a drone. This is the highlights movie, please look at the videos from the specific areas as well. Places visited with our drone: Murchison Falls, Kibale, Queen Elizabeth, Lake Mutanda, Lake Bunyonyi and Lake Mburo National Park.
Kazinga Tours - Bwindi Impenetrable Forest
Seeing the mountain gorillas is a very intense and unique experience. Take a look at our Video to get a glimpse of how it is to see them in the wild….
Kazinga Tours - Bwindi from the Sky
Bwindi Impenetrable National Park is one of the highlights of Uganda. This jungle is home of the Mountain Gorillas! And it is also beautiful seen from the sky. With our drone we have been able to fly above the mist, which gave a nice view of the forest and the 'sharp line' with the surrounding rural land. Come and see this beautiful videos for yourself!
This video is made by www.theworldfromthesky.com
Please subscribe to our YouTube channel.
And for more other drone videos, please check www.theworldfromthesky.com